Регистрация

07.06.22
Сообщения

1,271
Реакции

0
Facebook* ads, when optimised well, are one of the top ways to generate revenue for your business.
You can see your profitability skyrocket, and your customer acquisition costs drop dramatically.
Yet, you have to learn how to optimise them first to make sure you're using your budget in the most efficient way.
But as you may know, if your ad campaigns aren't working, there could be a number of reasons why. This is exactly why we wrote this article, to help you optimise your Facebook* ad campaigns.
As you run through these 10 Facebook* ad optimisation tips, remember that experimenting is key.
Sometimes it takes methodically tweaking audiences or trying different creatives, colours, ad copy, or CTAs until it all comes together to produce ads that get you a higher ROI.
Why's It Important to Optimise Facebook* Ads?​
Would you rather make a 3X ROAS or would you prefer a 1.5X return? It's a rhetorical question, but you get the point.
Ad spend can suck your financial resources incredibly fast if you aren't careful. Without optimising your ads as much as possible, you're likely losing out on better results, and leaving money (or growth) on the table.
There's also competition to think about. On Facebook*, you're a small fish in a big pond where
93% of marketers
are asking for attention.
If there are ways to optimise Facebook* ads for better performance, it's pretty safe to assume your competitors are testing them out. Choosing not to optimise your ads automatically puts your business at a huge disadvantage.
Before we get stuck in, here's a reminder of a number of ways you can optimise your Facebook* Ads (feel free to download and pass it on!):
In short: Ad optimisation is a key part of your growth strategy that you should always be working on.
To help, here are 9 Facebook* ad optimisation tips you can use to increase ROAS.
​
1. Choose the Right Campaign Objective​
The objective is what Facebook*'s algorithm uses to build audiences.
For example, say you wanted to target women between the ages of 25 - 44 that have an interest in yoga. Inside that audience are more defined groups based on intents and the objective you choose. If you choose a Purchase objective, Facebook* will show your ads to people who are more likely to buy your products than if you used a Traffic objective.
"Always go for the objective you're looking for," says Joey Stevens, The Social Shepherd's Senior Paid Media Manager. "If your goal is getting purchases, never get tricked into testing a traffic objective. Sure, you may get more traffic and lower cost-per-click, but your return on ad spend for the campaign will be lower."
There are 11 Facebook* ad objectives to choose from. Each can be put into one of three buckets:
Awareness
Consideration
Conversion
It's no accident Facebook* has created objectives that fall under these three general categories. Why? Because they're essentially each step of
the buyer's journey
. Choosing the right objective will increase the chances of increasing your success with ads.
As you're creating your ads, it's important to know what each objective is best for. Here's a quick overview to help with your campaign setup: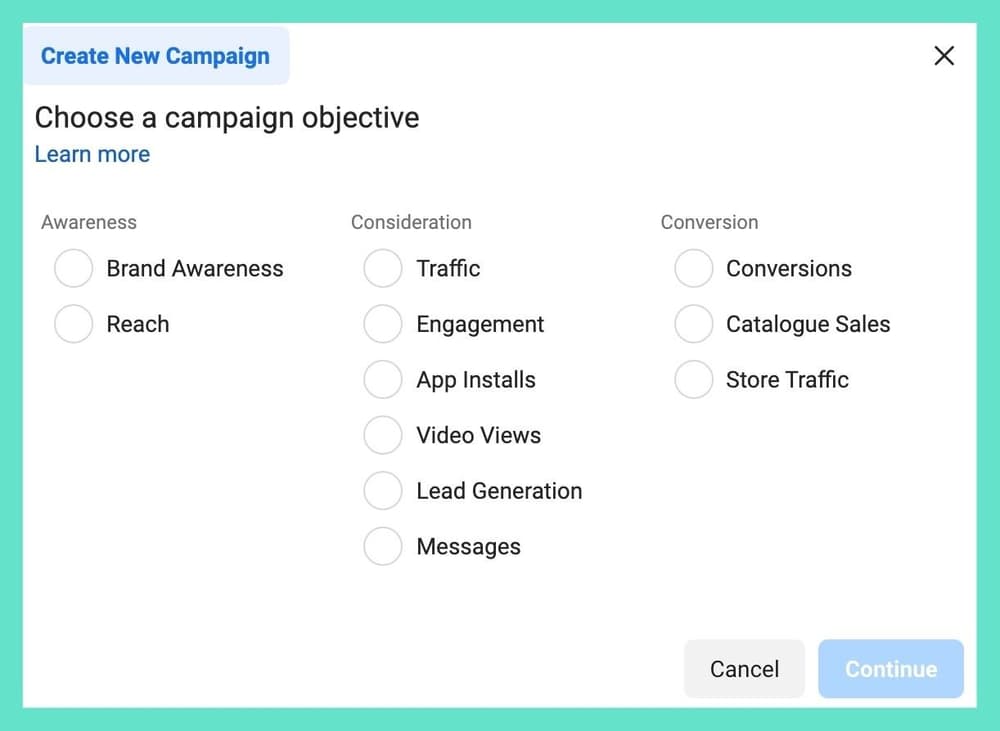 Brand awareness​
Need more people to know your business exists? Facebook*'s Brand Awareness objective helps you do exactly as the name suggests: make more people aware of your brand.
If you're trying to build brand recall or want people to remember a unique brand feature you own, Facebook* can make sure your target audience is exposed to your brand awareness ad.
Keep in mind that brand ads aren't specifically designed for clicks or engagement. If you want either of those, you'll want to take a look at the objectives under the Consideration category.
Reach​
Facebook* shows Reach ads to as many people as possible up to the amount you've set as your ad spend limit. You can choose how often your target audience sees these ads or even the location they should be displayed. These ads can work great for local advertising campaigns.
Traffic​
You can think of Traffic as the "choose your destination" objective. Ads created with a traffic objective are optimised for sending traffic to the link of your choice.
With it, you can send traffic to landing pages, an app, a blog post, your homepage, a squeeze page, your eCommerce store, or a special opt-in offer. Under the Traffic objective, link clicks are king. The more you spend on a traffic objective, the more clicks you'll get (though it's not optimised for much else).
Engagement​
Likes, shares, comments, and overall interaction. That's what the engagement objective is designed for.
As interaction with your ad increases, so does the amount of people that see it. Engagement is a great ad objective if you're trying to amass Facebook* page likes and follows and increase your CTR.
App installs​
Need more app downloads? The App installs objective was designed specifically to send people to your app.
Facebook* targets the people within your target audience who are most likely to download apps. It knows this by tracking and storing the profile activity and information of your target audience.
Video views​
Video content can often be a better way to reach your target audience. Facebook*'s Video objective will show your video to as many targeted users as possible to increase views.
Lead generation​
Lead generation enables you to collect leads. It's a great way to grow your email list, or collect a warm audience for a product launch.
One of the great things about the Lead Generation objective is that users don't have to leave the platform to opt-in to your offer. This makes it as seamless as possible for your audience to participate in your offer.
Messages​
With the messages objective, you can interact with your target audience as they contact you through Facebook* Messenger. This is a great way to create a more personalised ad experience.
This is a great way to add a more human touch to your business, remind your audience that you care about their personal needs, and become more memorable.
Conversions​
The Conversion objective is designed so that your ad entices your buyers into taking a designated action. It's a powerful objective when optimised well, and can be the weapon in your back pocket when scaling revenue or collecting subscribers as potential customers.
Conversions can work well across both prospecting and retargeting audiences, as Facebook*'s machine learning is so powerful, and understands which pockets of audiences are most likely to convert. Once you install your Meta pixel on your site, Facebook* can track the conversion events on your website and if they made a purchase.
Catalogue sales​
If you're an eCommerce business, you want to pay attention to the Catalog Sales objective. Facebook* uses machine learning to select the products from your catalogue that'll sell the best to your target audience.
Once you connect your catalogue to the Facebook* Ads Manager, it can select certain products based on different criteria. Both the Catalog Sales and Conversion objectives are designed for conversions. But the Catalog Sales objective is primed specifically for generating sales.
Store traffic​
Businesses with physical locations can take advantage of the Store Traffic objective. It's best for serving ads that get your local target audience in your store. This involves entering your location information, as well as designating the geographic location that you want your traffic generating ads to show.
Choosing the right objective for your new campaign will increase your chances of success. A mismatched objective can sabotage your whole ad strategy from the beginning, so choose wisely.
2. Test Creative Themes and Formats​
A/B testing is a powerful way to compare two versions of an ad to figure out which performs better. Advertisers will set up experiments where two or more variants of an ad are shown to viewers at random, and analysis is run to see which variant achieves higher conversion rates.
There are many things you can test, including colour and CTA's. But to optimise Facebook* ads in particular, we aim to test two main elements.
Creative themes such as user-generated content, lifestyle photography, testimonials, and social proof.
Formats including image, video, carousel, collections, and Instant Experiences.
Why test all formats? Because within your target audience, some people will convert higher on one format like an image, while others may convert higher on a collection ad. Providing the Facebook* algorithm with all formats is a must to optimise your campaigns and see better business outcomes.
A/B testing can become an involved process depending on how far you want to take things. Yet, if you're serious about optimising your ad spend, the ROI can be worth it.
Love Leggings, a UK leggings brand, was able to achieve an 8.2x ROAS after teaming with us. That's great considering only 30% of marketers see
an average of 6 - 10X return
.
We were able to restructure their entire account and worked on optimising their creative assets. Not only that, but we were also able to increase their ROAS on Snapchat to 5.4 and to 13.7 on Pinterest to boot.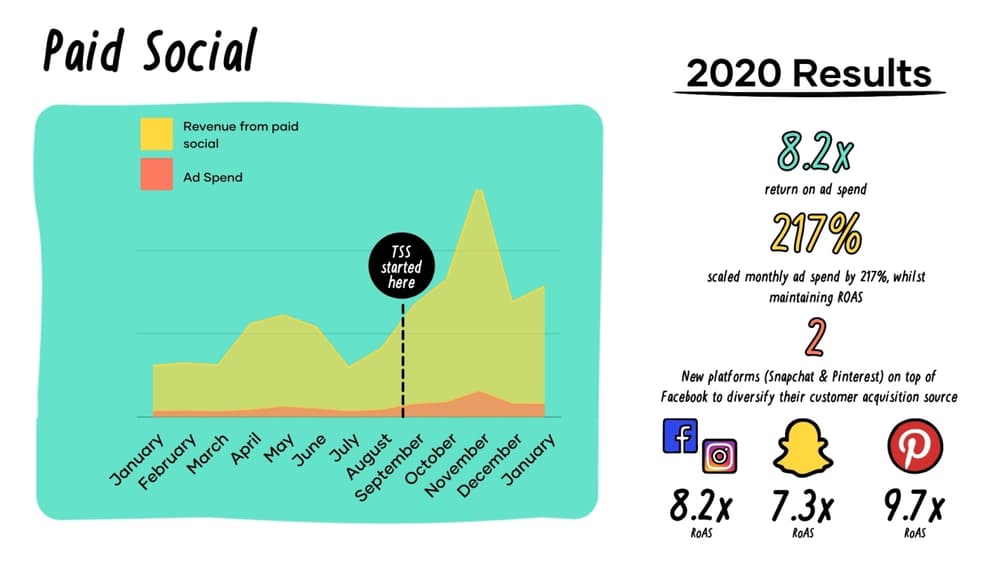 Results like these are what you get when you spend proper time optimising your Facebook* ads. But you don't just want to test your ad imagery. What if you want to test your copy?
To do this, Facebook* allows you to use up to 5 ad texts and 5 headlines. This way, you're able to test:
Do ads with longer text have more engagement than those with shorter text?
Does more laid-back messaging or straightforward copy work better?
Do story-driven ads perform better?
Do emojis have any impact on your ad engagement?
If you want to test headlines, think about testing feature-driven headlines, news-type headlines, 5-star reviews, or using your unique selling point. The text variation feature in Facebook* Ads Manager lets you add up to five different copy versions of your ads: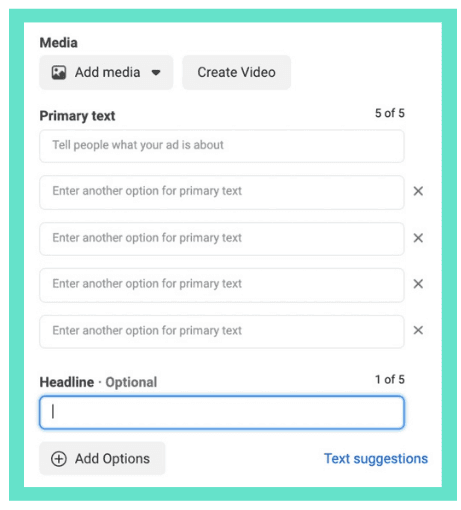 You can try different copy options to showcase different aspects of your product and service, such as including testimonials, pricing information, or a question to grab your audience's attention.
3. Test Landing Pages​
Another Facebook* ad optimisation tip is testing your landing pages. Even with the increasing popularity of in-app shopping through Facebook* Shops, you still want to send viewers to your website to collect data and test different landing page types.
Ecommerce stores tend to test a variety of landing pages against each other. For example, sending viewers to a collection page versus a product page depending on campaign type. If someone saw an awareness ad on Facebook*, sending them to a homepage to get more information about your brand may perform better than a product page.
It's helpful to think of your landing pages by funnel stage.
For Top of Funnel (TOFU) campaigns, you'll want to send people to a homepage or collection page. This will let them get a better feel for your brand and its products.
For Middle of Funnel (MOFU) campaigns, you can test sending people to collection or product pages, since they are already aware of your brand and have a higher chance of purchasing.
For Bottom of Funnel (BOFU) campaigns, send people directly to product pages since they have the highest purchase intent.
Each audience will react differently to your landing pages. Testing is the main way to figure out where you should send ad traffic to get the highest conversion rates.
4. Exclude People Already in Other Ad Sets​
This is an all too common problem beginner marketers make with their ad sets. They don't exclude audiences that are already in other ad sets.
The problem? When you mix audiences, you're competing and bidding against yourself to reach the same person.
You can also fall into the trap of your retargeting audiences, still being in your prospecting audiences, so you think your ROAS is high, but actually, it's only high due to it predominantly being retargeting.
To optimise your ads, you want to exclude audiences by stage of the conversion funnel to filter users into the right customer journey.
How do you do this?
As you're creating an ad set, in the Audience section, click Custom Audiences.
Select the audiences you want to use, then click on Exclude to exclude audiences based on the choices provided in the field.
After your ads have been approved and been given time to run, check your results on our dashboard to see how they're doing. The bottom line? Excluding audiences is a sound way to manage your ad budget. If implemented, it can help improve your ROAS.
5. Double Down on High Performing Ad Formats​
If something is working, why change it? The same concept applies to Facebook* ad formats.
If you see that Instagram Stories perform 70% better than feed posts, refresh your budget with the same ratio.
Chances are, you'll run a few Facebook* ads that'll fall flat with little to no results. But, once you hit your stride and find the ad or ad sets that are working for you, niche down on them and focus your spend there.
While you can experiment with new ad types even after finding success with certain ads, it might be a better strategy to focus on the ads (or the platform) that's working best. This way, you maintain your ROAS as high as possible.
6. Keep an Eye on Ad Frequency​
Too much of a good thing can turn sour. It's the same with your ads. The higher the number of times people see your ad without taking action, the more it indicates they're not interested.
Facebook* uses sampling and modelling to estimate your ad's frequency. That is, when it gives you a frequency score, it's an estimate at best.
Generally, you want to keep ad frequency below three. One great way to tell if your target audience is experiencing frequency fatigue is if your engagement significantly lowers as you scale ad spend.
"On a monthly basis, your prospecting audience should hit a frequency of 1.5 to 2.5," says The Social Shepherd's Paid Media Manager, Jacob Stuckes. "Retargeting audiences should be between 3 and 8, spending on your product price."
The higher the average order value, the higher you can go on ad frequency.
If you're not hitting these ranges of frequency, then look to increase or decrease your audience sizes.
As you make these changes, make sure to give them some time to see how your audience adjusts. It's best to not make them all at the same time. That way you can make a more accurate diagnosis of where your ads have gone wrong.
7. Experiment with Lookalike Audience Sizes​
A Lookalike audience is a group of Facebook* users who are interested in your business because they are similar to your existing customers. They are easy to create and implement (all it takes is a CSV file upload) and can be a great way to find high-converting users for your campaigns.
Facebook* lets you choose how closely you want to match your base audience. You can set up a Lookalike audience with anywhere between 1% and 10%, of which 1% would include only people who are a close match to your base audience.
This begs the question: What's the optimal Lookalike audience percentage? Just like there isn't an optimal time and day for businesses to deploy their ads, there also isn't a one-size-fits-all answer for audiences. This is why it takes experimenting to see what works.
Experiment with a Lookalike audience in the 1% range vs. a 5% range vs. a 10% range so you get some data from points across the board.
For some context,
AdEspresso
ran an experiment at different ranges. The results? It's best to keep your Lookalike audiences smaller instead of going for a huge piece of a country's population. You're better off aiming for a lower range limit.
Still, experimenting could give you specific insight on the performance of your particular brand with different size audiences within the 1%—3% range.
Once you've seen success with the smaller ranges, you can then start exploring larger lookalike audiences.
Brands with a broader market appeal can sometimes get away with going straight for 10% lookalikes, especially if they've already proven their product-market fit.
8. Exclude Existing Customers from these Campaigns​
There's another set of people you'll want to exclude from each Facebook* ad set: Existing customers.
If you're trying to acquire new customers into your brand, you want to ensure all of your budget in your core campaigns are not showing to existing customers, especially if you're using creative which includes a first-time customer discount code as an incentive to buy. That would be a waste of your ad budget.
But assuming you sell a product or service that has returning customers, you should create a separate campaign that solely targets existing customers, breaking down the ad sets by the number of days since their last purchase.
Say you're ready to exclude the audience that bought something from you in the last 90 days. You'll want to:
1. Create a campaign in
Ads Manager
or create an ad set > Create Custom Audience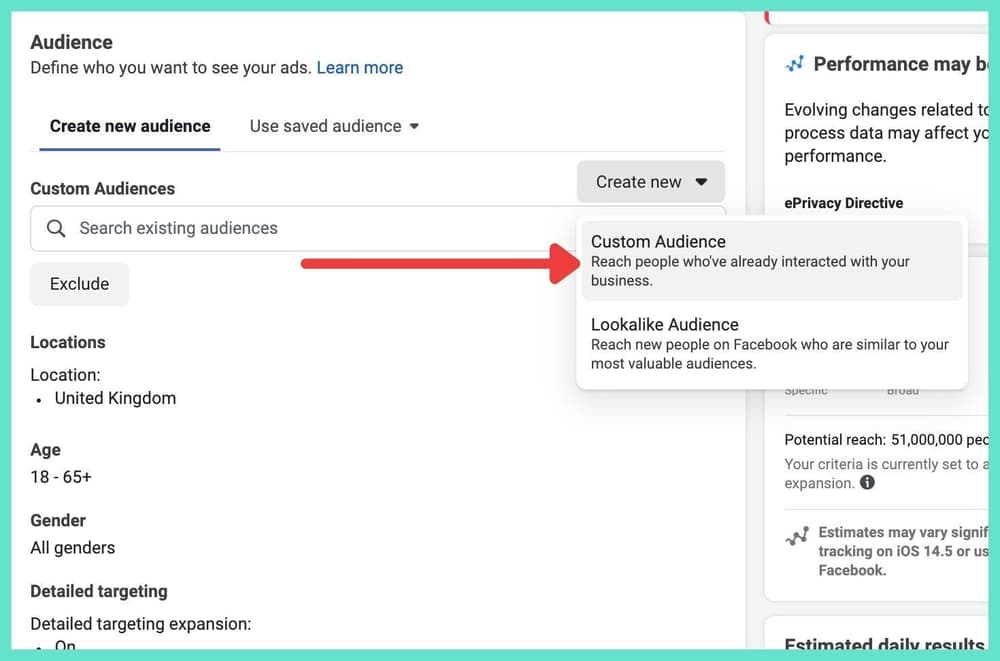 2. Selecting the correct custom audience > Website Source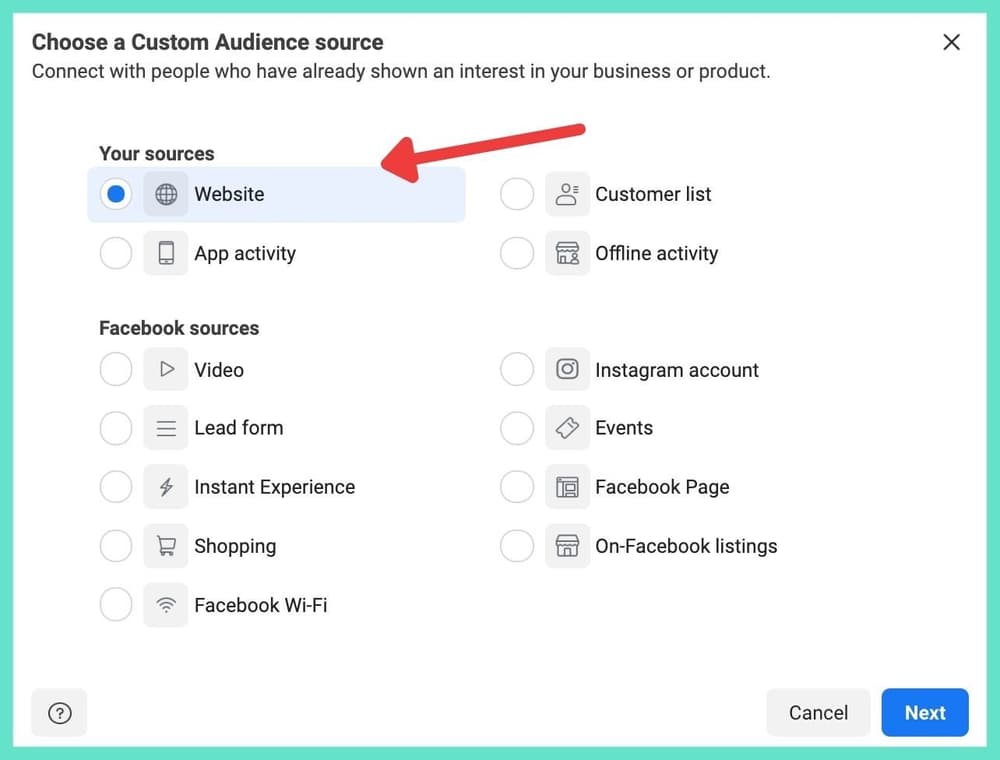 3. Here's where you can set your parameters to create an audience of people who've purchased from your website in the last 90 days with the different field options. Once done, click Create Audience.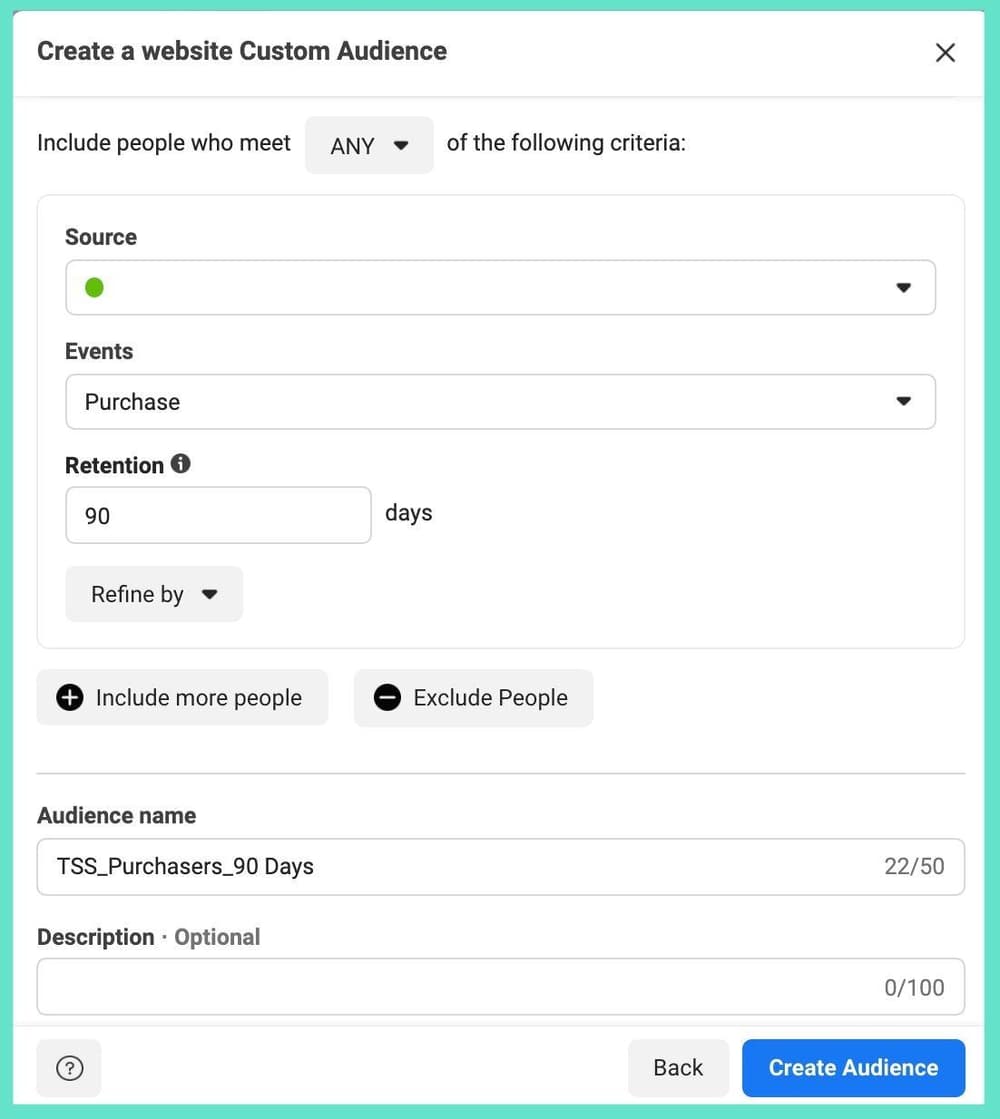 4. Once you've created the custom audience of your purchases, you now want to exclude them from your ad sets here: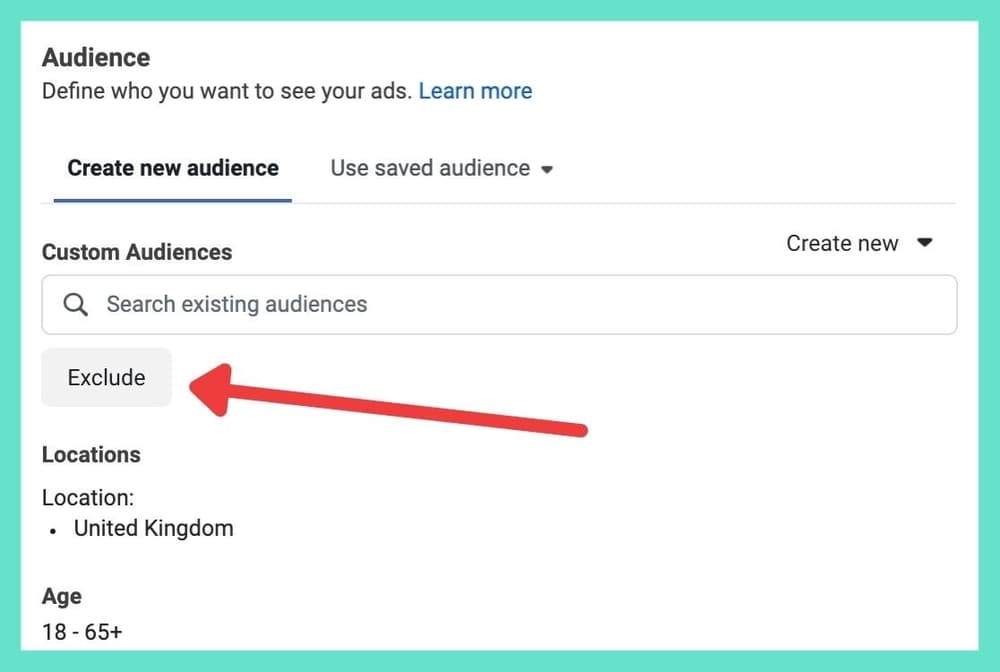 This way, your ad will exclude anyone in your target audience who has made a purchase on your website within the last 90 days. Doing this also ensures you aren't throwing your ad money away by showing people an offer they've already taken.
9. Optimise Your Ad Budgets​
There are a few ways to optimise your ad budgets in Facebook* Ads Manager.
Campaign budgets​
If your brand gets a lot of organic traffic, then you need less budget in your top-of-funnel campaigns since you're already filling up the retargeted audiences. Yet, when a brand is getting started, we generally recommend the following allocations:
70% Top of the funnel
20% Middle of the funnel
10% Bottom of the funnel
As you optimise ads for each part of the funnel, you need to keep frequency in mind. Adjust budgets accordingly to maximise the efficiency of their budget.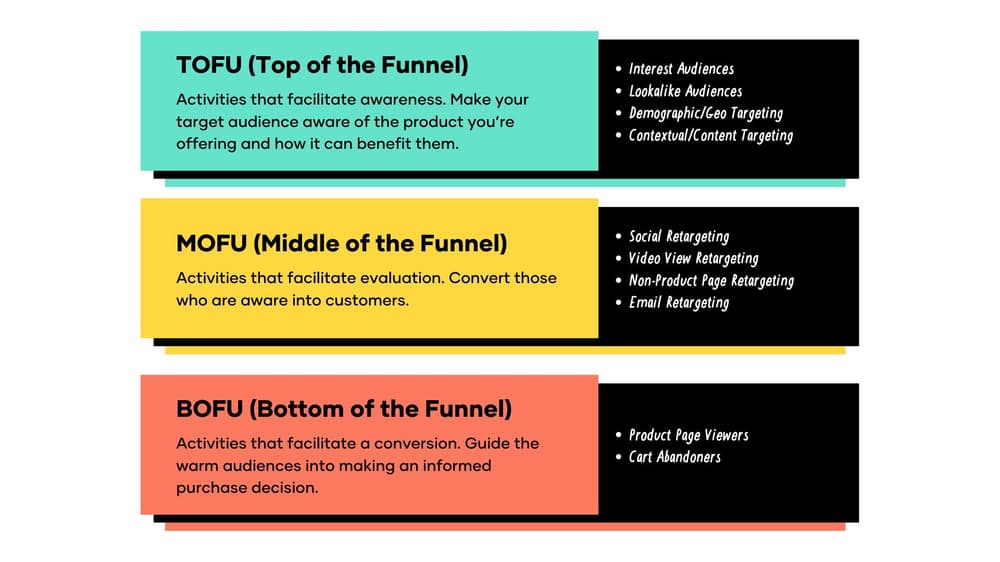 When it comes to bidding strategies, we recommend 'highest value or lowest cost', but it can be worthwhile to test 'cost cap' to control your cost per purchase or lead.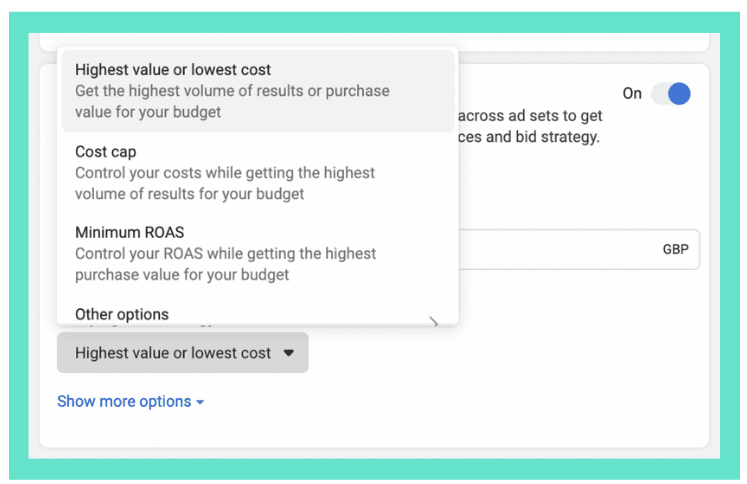 ​
Platform budgets​
When you diversify your traffic source across multiple paid social platforms, it's important to understand which platforms are driving most of the performance.
Naturally, Facebook* ads are where the majority of the budget goes, but if another platform is performing well, then you might want to consider increasing budgets there.
Ad set budget control​
You need to do this when you're testing new audiences within a campaign that's using Campaign Budget Optimisation (CBO).
Sometimes when you launch a new ad set with new targeting within that campaign. It has a lot of history with four or five ad sets that perform well already. Facebook* may not spend on the new ad sets when you launch and run tests.
Still, you're able to force them to spend, by setting ad set budget minimums to ensure it spends.
What you can do is ad set budget control. If your new campaign isn't spending, you can adjust the spend in Ads Manager.
Click Edit in the Ad Set you want to adjust.
Under Budget & schedule, click Show more options. You'll see an option for Ad set spend limits.
Click Edit. Then check the Ad set spend limits box.
Then set your Daily minimum spend. This will force Facebook* to allocate budget toward this particular ad set.
For example, if your campaign is spending £1,000 across six ad sets, that's £150 per ad set. Facebook*'s CBO will allocate that budget to different ad sets according to performance. If you set a Daily minimum spend of £50, your ad set will start getting traction and you can test if it's worth putting more money behind or not.
Scaling ad budgets​
"Scalability of a Facebook* Ads campaign without increasing your budget, in my opinion, is the definition of scaling," says Brian Dean of
Exploding Topics
. "There is, however, a proper and incorrect way to accomplish it."
"Increasing your budget from £20 to £2,000 in one day, for example, is a bad idea. You'll lose your mind over the algorithm, and your cost-per-result will certainly skyrocket.
Although increasing from £20 to £2,000 may be your ultimate aim, when it comes to Facebook* advertising scalability, calm and steady wins the race. Increase your budget gradually rather than all at once. This allows the algorithm to modify and optimise, as well as allowing you to monitor the progress of your scaling efforts."
Start Optimising Your Facebook* Ads Today​
No doubt Facebook* ads can be the swiss army knife in your back pocket for all kinds of business growth. It's no wonder
3 million businesses
advertise on Facebook*.
Still, ads can be hard to manage without a comprehensive digital marketing strategy. You also need campaign objectives that are optimised for your budget, especially if you're a small business.